HARDWARE:
Handys VOIP recommends that only quality SIP phones, ATA adapters, SIP Soft Phones, Gateways, and Headsets be used by our customers.
Handys VOIP offers a selection of VOIP devices that can be purchased by customers.  These devices can be preconfigured before being deployed, or can be setup on site by Handys VOIP at time of installation.
Handys VOIP is now offering Bring Your Own Device for new customers who already have VoIP hardware they wish to use. Detailed instructions on how to connect your device to HandysVOIP.com's service will be sent after ordering.
Any device to be used with HandysVOIP.com's service must not be locked or currently provisioned to any other provider, and you must have the admin password for the device. Any device received from another VoIP provider that cannot be unlocked will NOT work due to this restriction.
Softphones/Software:
You can even use your computer or laptop to be your phone, and it will work anywhere, doesn't matter if you are at the office, at home, on a business trip, or on vacation, you can still access your phone lines no matter where you are at as long as you have an internet connection.  There are many software phones as well which can be checked out below:
CounterPath Eyebeam Softphone
The EyeBeam softphone is ideal for all users at home or on the move. Use a data card in a laptop or hot spot WiFi and access your VoIP extension using this phone.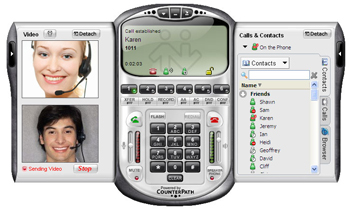 http://www.counterpath.com/x-lite.html
CounterPath's eyeBeam soft phone is a next generation telephony client that works like a phone. The eyeBeam client allows you to stay connected and manage your calls and availability with a comprehensive suite features.